Wedding Party
My
J.Crew
Sabine dress, bought for a whopping $200 off of ebay.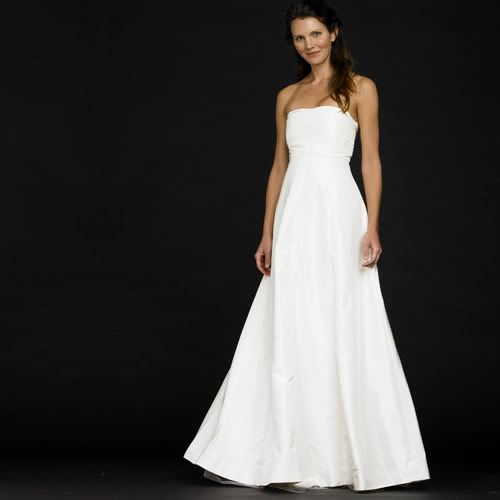 I may wear a not-very-full crinoline dyed pale pink under it. I'm still deciding...
My earrings from
Luxe Deluxe
on etsy.
My clutch from
Keka Lou
on etsy, as well. This counts as my 'something blue.'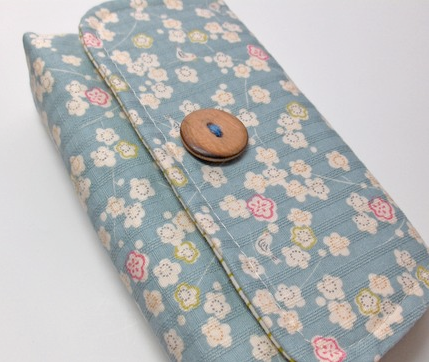 These aren't my exact shoes, but I got a wedge pair like them from
Piperlime
.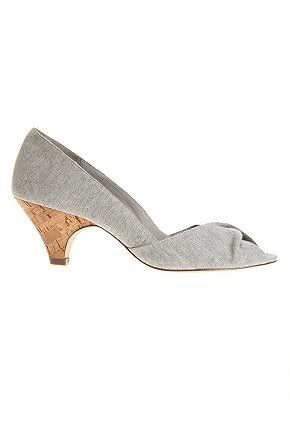 My hair's going to look like this: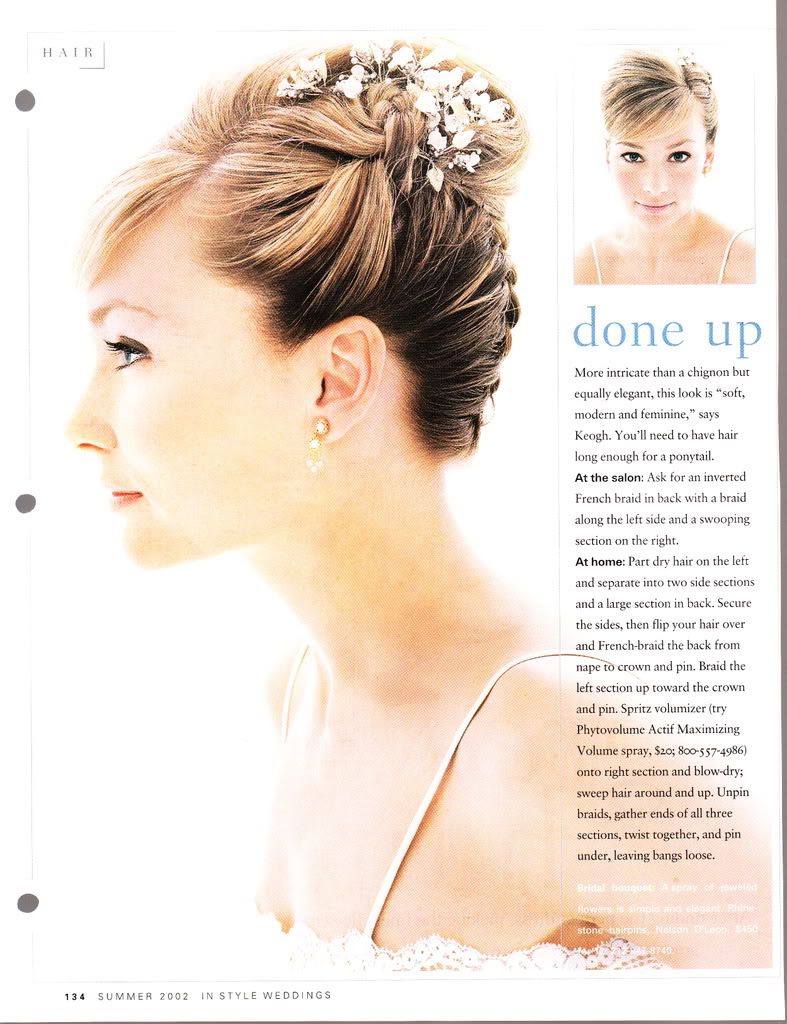 Instead of the little flowers, though, I'm going to have DIY fascinator and birdcage veil similar to this: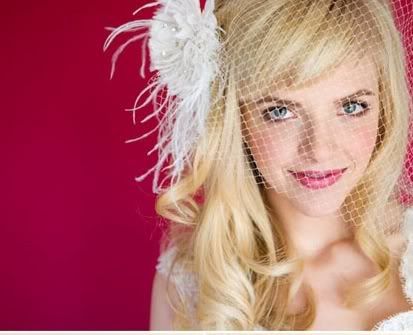 I know what I want my make-up to look like, but I'm still hunting down pictures that show it.
I plan to switch into a white, foo-foo cocktail dress sometime during the reception. I'll be wearing a pair of Converse slip-on sneakers with it.
My groom will be wearing a suit similar to this, but the shirt and tie will be in keeping with our yellow/gray color scheme.
He's still trying to decide on where to get his suit, but he may purchase some of the pieces from
Rawganique
, which makes hemp clothing.
His shoes will be a pair of custom Chucks in gray with yellow stitching. During the reception, he'll ditch the coat, tie, and shirt for a white Guayabera.
Our wedding party consists of only a MOH, a best man, a ring bearer, and a flower girl.
My MOH is wearing this J.Crew dress.
I just told her to get a yellow party dress from wherever, and that's what she picked. For her gift, I'll probably get a necklace from Luxe Deluxe.
We're still deciding on what to make our best man wear. His gift will be a pair custom Chucks.
We want out ring bearer and flower girl to wear something casual like these outfits.
The outfits are from an old J.Crew catalog, but I'm just going to provide the parents with lots of inspiration pictures and let them put something together as they please. We're going to get our ring bearer a pair of yellow Chucks, and I'm still figuring out what to gift our flower girl.
My fiance is going to walk our dogs down the aisle with him. They're Jack Russell terriers (e.g.,
crazy
), so they'll get swept off to their favorite
doggy daycare
after the ceremony. Anyhow, Wyatt will be in the always classy tuxedo t-shirt, and Holly will be in a 'Doggie of the Bride' shirt from
Ink Box Designs
. Her shirt is a bit of splurge for a dog, but we're saving elsewhere so I'm not worrying about it.
I'm making ribbon collars and leashes, like this Martha Stewart dog has - in our colors, of course.
Flowers, etc.
My mom and I are doing all of the flowers ourselves. She used to work as a florist and I've had classes, so the only thing that's stressful for me is that we'll have to get it all done the day before the wedding.
My bouquet is going to be a sort of hybrid between these two. I'm wrapping my great-grandmother's handkerchief with a yellow rose on it around my bouquet, and that'll count as my 'something old.' I'm going to wrap a locket with pictures of my deceased grandfathers around the bouquet, as well.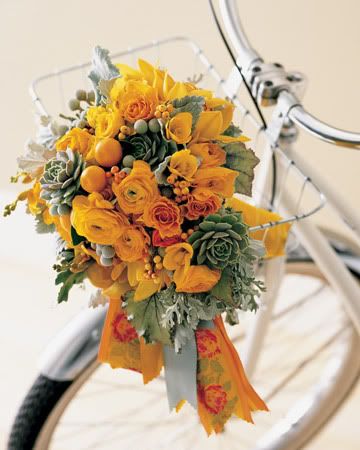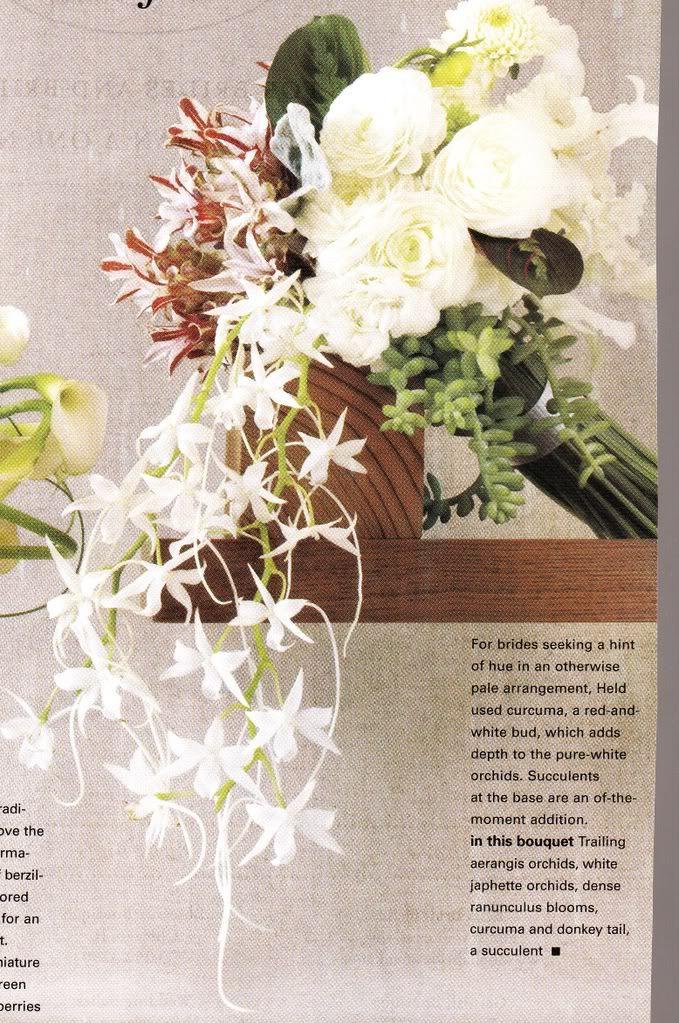 I may not use so many orchids (my wedding's in spring, when a lot of gorgeous flowers like daffodils and tulips are available), but the color scheme is spot-on. My MOH loves purple.
Justin, my fiance, is keen on sunflowers, so his boutonnière will feature one. I'm still sorting out the details on all of the other boutonnières, nosegays, and corsages, but I'm eager to use unusual plants like succulents and herbs.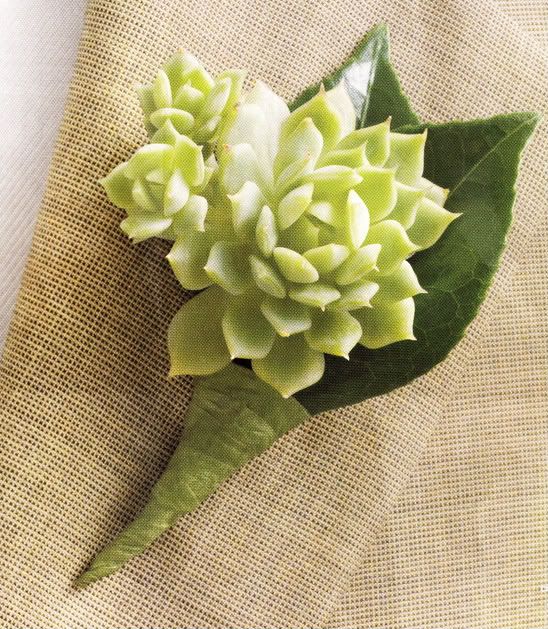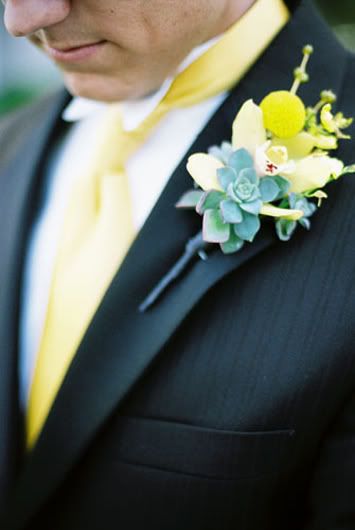 For the flower girl, I hope to do some sort of cross between a basket and pomador, possibly with daisies. Our ring bearer will have a birch 'pillow' from
Muscari by Easter Yu
on etsy.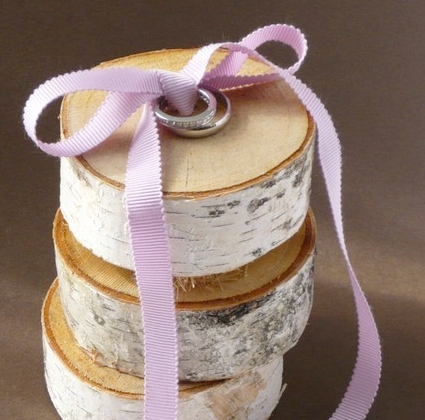 Venue
Our ceremony and reception are both at my fiance's aunt and uncle's backyard. It's large with an interesting layout.
Guests will already be seated at their tables and chairs during the ceremony, so it'll sort of be like the Golden Globes. Immediate family, VIPs, etc. will have rows of chairs in the front that will be switched out for a big banquet table during the cocktail hour. The lower level of the yard will be for dancing, and there's a covered patio and sunroom for the buffet and bar. There's also going to be some yard games, like horseshoes or bocce ball, and lounge areas with blankets and big floor pillows.
Justin's uncle plans to have a lot of flowers in the walled garden behind the top-level patio where our ceremony will take place. We're making the chuppah ourselves; it'll resemble this canopy.
March in Texas can mean any type of weather, so if it rains (fingers crossed that it doesn't) everything will happen at the local Jewish community center up the road.
Most of our decorations and centerpieces will be potted succulents, herbs, and grasses or piles of lemons in vases.
Each table will also have an assortment of buttons for our guests to wear. I guess, these count as the favors. They'll have different phrases, conversation starters, quotes, and images.
I'm going to make soy and beeswax candles in Mason jars, and those will be used for illumination at each table. I'll also use wire to hang a few up in certain places. We'll use string lights - and possibly round paper lanterns - in the trees, along the fence, and at other areas to light up the yard. The trees will be decorated with the ubiquitous Martha Stewart pompoms, but I may use these paper decorations over the buffet table.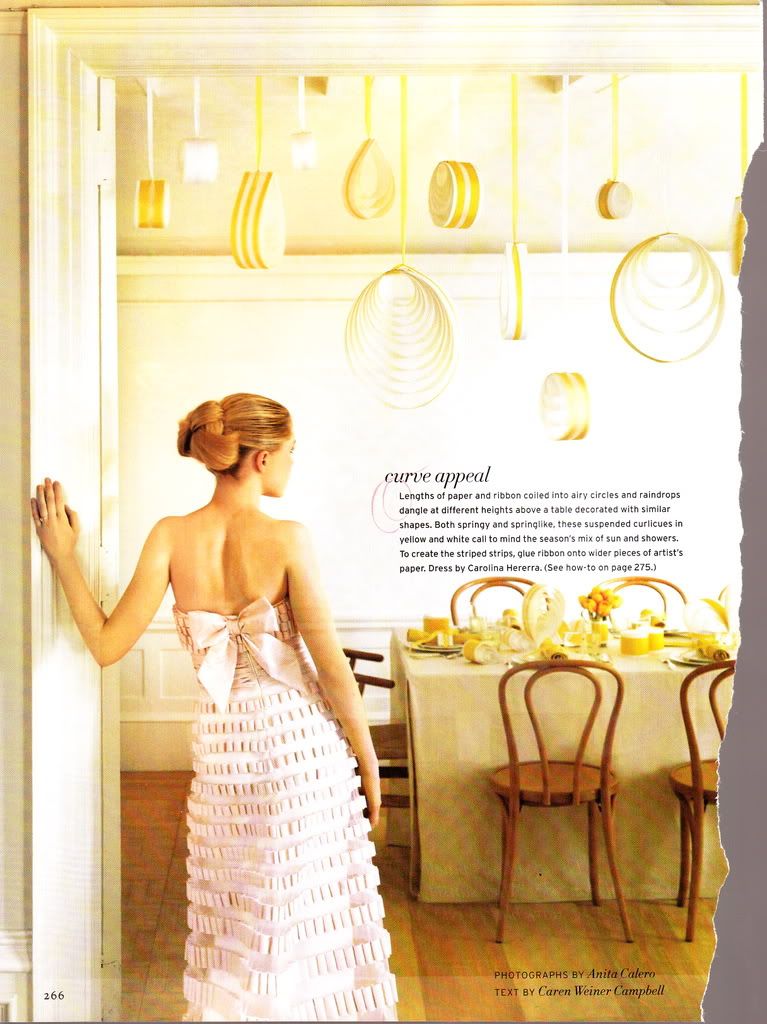 Food and Drink
Our rehearsal dinner and wedding are both being catered by
Pink Avocado Catering
. Below is our wedding buffet menu.
- Salad skewers with citrus rosemary dressing
- Rosemary tomato shrimp gazpacho shooters with vodka
- Vegan samosas with sweet chili sauce
- Antipasti platter with fruit skewers, grilled veggies, cheese, and artisan breads
- Rosemary garlic flank steak platter
- Smoked salmon canapés
- Seared polenta with Parmesan crust
- Turkey meatloaf cupcakes with piped sweet potato filling
- Sweet potato latkes with apple sauce
- Game meat confit with brioche rolls, Stilton cheese, dried blueberries, and argula
- Baked, fried, and wrapped Brie platter with toasted baguettes
- Tater tots and mini corn dogs for the kids
Our yichud meal will be braised brisket and the sweet potato latkes. OM NOM NOM. Ahem.
We're stocking the bar ourselves, with the help of our best man, a wine importer. We plan to have tons of red and white wine varieties, plus a couple of types of beer. We'll also have lots of the standard non-alcoholic stuff, like water, tea, etc. and more quirky stuff like Izze drinks and delicious Mexican Coke. The 2 signature drinks we're having are ginger frozen lemonade (with and without vodka) and a tequila bar with hollowed out limes and root vegetables as the shot glasses.
Our wedding cake comes from
Coco Paloma Desserts
. The cake will be lemon-rosemary with a rosemary-infused curd between layers and white buttercream frosting. No fondant for us. Our cake will look something like this, with a glittery 'H' as the topper.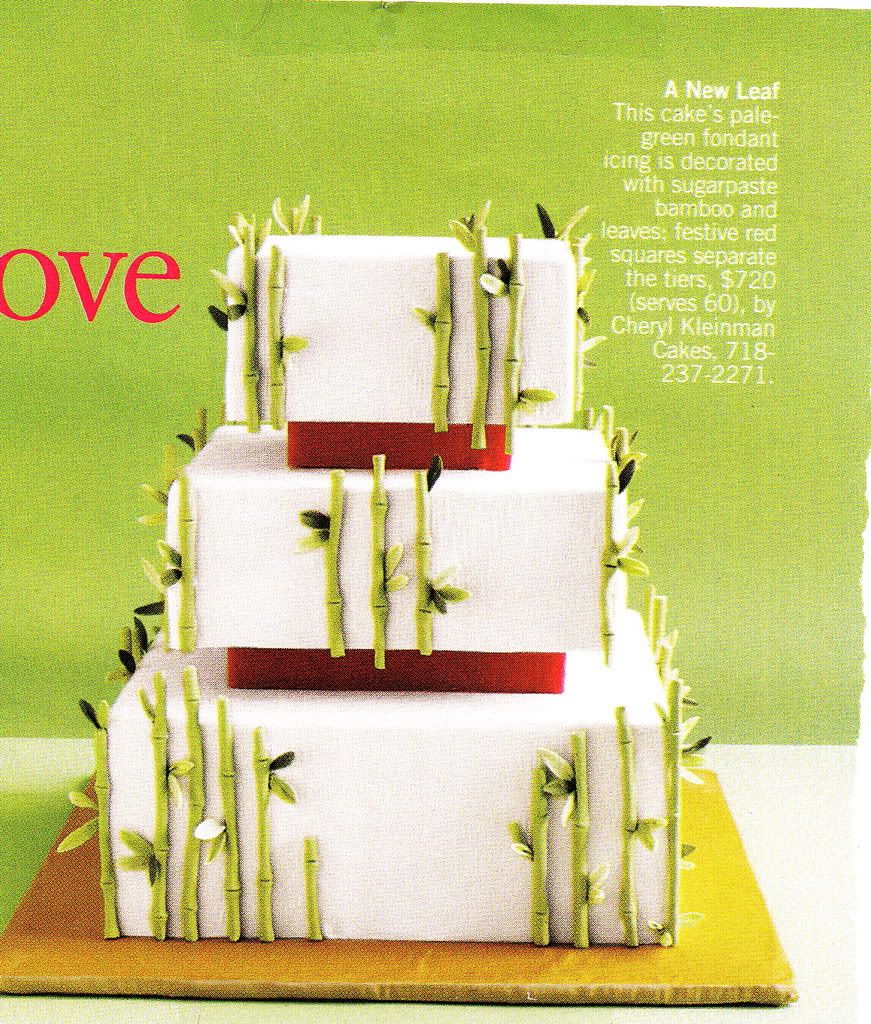 Justin's aunt is making the groom's cake. His cake will look similar to this one, but it will have a Star Trek topper instead of a flower.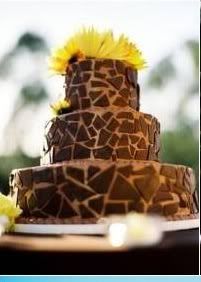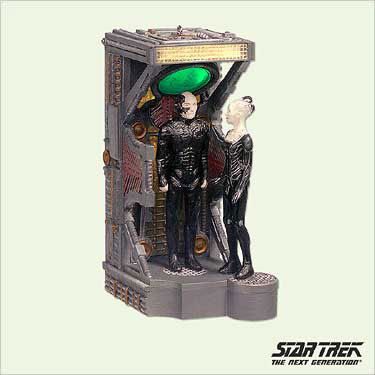 Paper
Here are our STDs, which I'll be ordering later this month from
Greener Printer
. They're actually inspired by an LJ icon I saw once. I drew the silly little people that represent us, and my friend did the photoshop color work to make it look a bit like an old flashcard.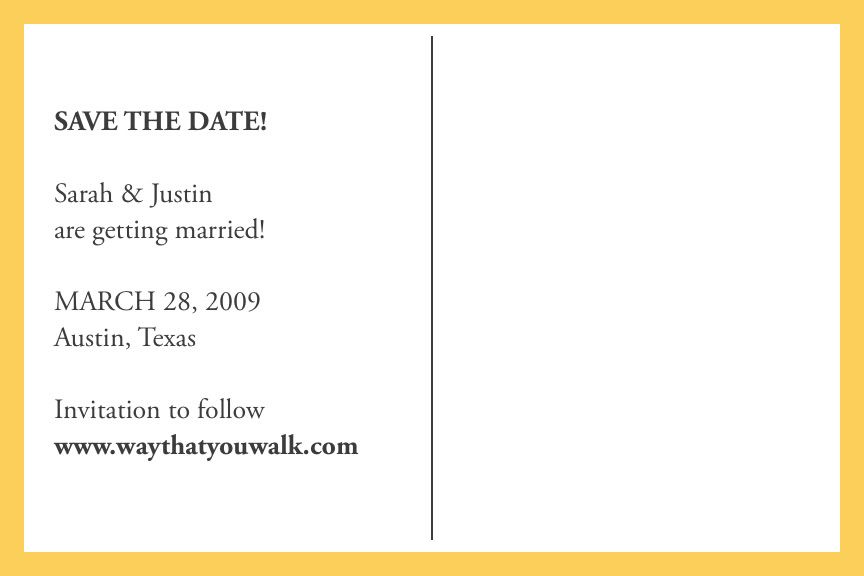 Our invite is going to be a small poster, inspired by the layout used in this one from
another wedding
. The images, colors, fonts, and designs will all reflect our interests and the various elements of our wedding. I'll be working with a friend to design the invites. A map and directions will go out with the posters but nothing else; RSVPs will be done online or by calling us.
I'm making the programs myself. They'll be typical booklet style - so we can explain the Jewish ceremony to our mostly non-Jewish guests - with paper imbedded with wildflower seeds for the covers.
I'll also be making the escort cards and table signs. Each table is named after a Star Trek character that we like. We're recycling wine corks for the escort card stands.
Music
We hope to have Justin's
friend
act as MC and iPod DJ. Almost all of our music will be covers, that way we can have a variety but still have a central theme. Here's our main event music listing:
Prelude: various (nerd) movie overtures (Star Wars, Jurassic Park, etc.)
Wedding procession:
Star Trek: The Next Generation
theme
Bridal procession:
Star Trek: Voyager
theme
Recessional:
'I Love You, Baby' by Brak
Yichud start: 'I Think We're Alone Now' by Tiffany
First dance: TBD
Father/daughter dance: 'To Sir, With Love' by Al Green
Mother/son dance: 'Mama Tried' by The Grateful Dead
Cake cutting: 'Sugar, Sugar' by Wilson Pickett*
Bouquet toss: 'Girl, You'll Be a Woman Soon' by Urge Overkill*
Garter toss: TBD*
Last Song: 'Time After Time' by Willie Nelson
Leaving reception: TBD
* These'll all be snippets, of course. And we're letting anyone come up for both of the tosses regardless of relationship status or gender.
Misc.
- Here's our ketubah from
MP Artworks
.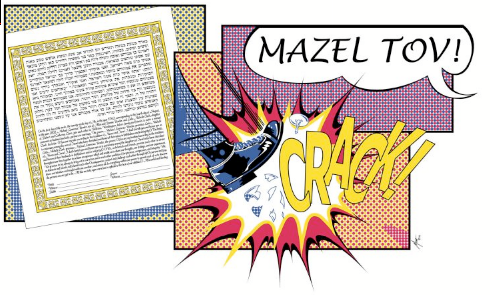 - We've booked our
getaway car
.
- We've booked the
officiant
.
- My ring will be set with a pearl from Justin's grandmother and some of my grandmother's diamonds. Justin's ring will be a simple
tungsten carbide one
.
- Our toss will be a combo of yellow
'ecofetti'
and dried lavender buds.
- Someone on here used a coffee table book of their honeymoon destination as their guest book, and I love that idea. Our honeymoon is going to be in Italy (Rome, Tuscany, and the northwestern beaches), so suggestions for awesome Italy photo books are welcome.
- We've booked our
hotel suite
for the night of. After we get to our hotel, which is downtown, we hope to head out for a few more cocktails or some live music. Our reception ends at 9:00 pm - our's is an afternoon wedding - so hopefully we'll be up for some more fun. That night we want to get matching ring tattoos, as well. Then we'll be heading off to Europe the next day.
-
Edit:
Oh man, I am such a dumbass. I forgot to mention that we've booked
our photographer
. We've already done our engagement photos. He took a million of them; you can see some at
our website
. I had sinus pressure so severe I was on prescription pain medication that day, so I was kinda 'eh' about our e-photos for a while. I actually like the goof-ups the best.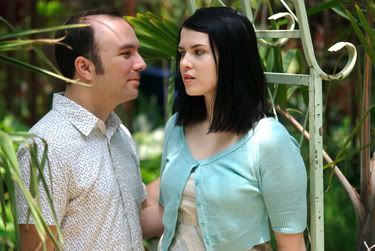 One of the goals of our wedding is to have as little environmental impact as possible. Of course, if we were really hardcore, we wouldn't bother with a wedding at all! Anyhow, I didn't really mention the 'green' elements in this post (I don't want to be preachy), but if you're interested, you can read some details
here
.
As you can see, we have most everything
planned
, there's just a lot left to do in the way of ironing out details, booking appointments, and buying or making
a lot
of stuff!
This is my first progress post (hooray!), so it's also got just a lot of our general plans even if we haven't cemented them yet. We're going to kick it into high gear next month and get a lot more done then. I've culled a lot of photos from all over the interweb, but I don't always know whom to credit. So, if something you've done is in here, let me know. Now, on with the show...