+ We signed the contract with our caterer and put down our deposit. We got a great deal because FH's brother works for the caterer. Our menu won't be kosher by a long shot, but we did make a couple of changes to make it a little better. Instead of rosemary tomato shrimp gazpacho shooters with vodka, we're having regular tomato soup shooters with mini-grilled cheeses. You can see the original menu in my
200 Day Progress Post
.
+ We decided on a cake design from our baker,
Coco Paloma
.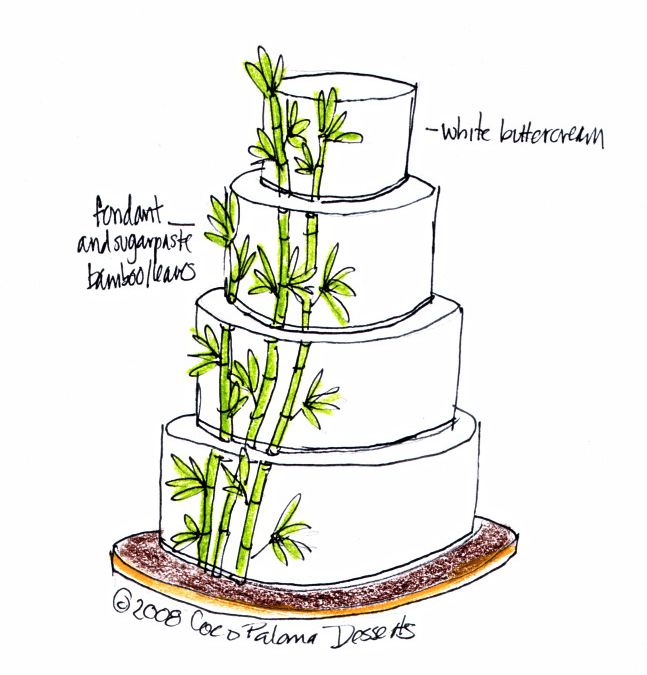 Our baker's going to create a faux-wood base for it, with marigold ribbon. It's lemon-and-rosemary flavored.
+ As you may recall,
my original maid of honor dropped out of the wedding
. This means we had to find a new person to finish up the changes on our
invitations
, which she originally put together. We liked the invites too much to scrap them, and MOH 1.0 was fine with this. A high school friend of FH's is taking over production.
Meanwhile, a stellar friend of mine is now MOH 2.0. I was nervous about asking her, but she was really excited and geared up. I know she'll be fun, supportive, and super helpful. We're already planning craft parties and my bachelorette night. One thing we plan to do is attend an
Alamo Drafthouse sing-a-long event
. Hopefully they'll have 'ladies of the 80s' or something like that in spring.
+ We're planning to have a wedding shower (or 'Jack and Jill party') rather than a bridal shower. We want to have it at our house, with a Valentine's Day theme although it won't be Valentine's weekend. My uncle said he'd do a fish fry for us, which I am absurdly excited about.
+ Our best man is coming over this weekend to discuss plans with us. He is a wine importer and is graciously gifting us all of the wine for the wedding. We were flabergasted when he told us.
+ STDs went out in the mail a couple of weeks ago, but some people have said they didn't get them. We have lots of extras, though, so I'm just handing them out when I see people. We used
Greener Printer
for the STDs. They're a bit pricey (about twice the cost of Vista Print) and our small amount of postcards probably wouldn't do much harm anyway, but if you've got the money and inclination I recommend them. They're website was easy to use, and they got things done super fast.
+ I'm trying to narrow down my ideas for the ring. We did things backwards - my e-ring is a plain band and my wedding ring will be the fancy one. I've got FH's grandmother's unfinished pearl and my grandmother's eleventy billion little diamonds to use. I think I want something modern and rustic looking, like this:
... but in silver or white gold, with the pearl in the center and a few more diamonds. But I dunno. Justin (FH) is going with a plain tungsten carbide band.
ETA:
I forgot that my dad is making our ring 'pillow' out of a slice of oak from my parents' place in the Texas Hill Country. It's a little thing, but it means a lot to me to have that personal touch from where I grew up. You can see the inspiration piece in my 200 day progress post.
ETA2:
Ugh, I keep forgetting stuff. We've pretty much decided on our first dance song: Madeleine Peyroux's cover of 'Dance Me to the End of Love.'
So, lots lots lots left to do, but we're making it happen. We're getting FH's suit soon, and I'll probably do most of the DIY stuff over the holiday break. I already designed our programs with a template from
DIY Bride
; they were quite easy and fun to do.
This is really mini-progress post because most of what we've done is boring - things like following up with our officient or looking into wedding insurance blahity blah. But here's some of the more interesting things (to me anyway) we have accomplished.