+ Got Justin's suit. Both jacket and pants are from J.Crew, but we got the pants for a nice price off of Ebay.
Justin ordered his and the best man's ties last night from
toybreaker
on Etsy. They'll be this design, white on silver.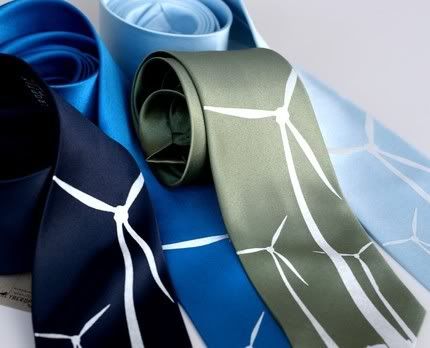 + Here's the fascinator I made to wear in my hair when I change into my more casual outfit at the reception, which will consist of a white cocktail dress and some Converse flats... that I still need to buy.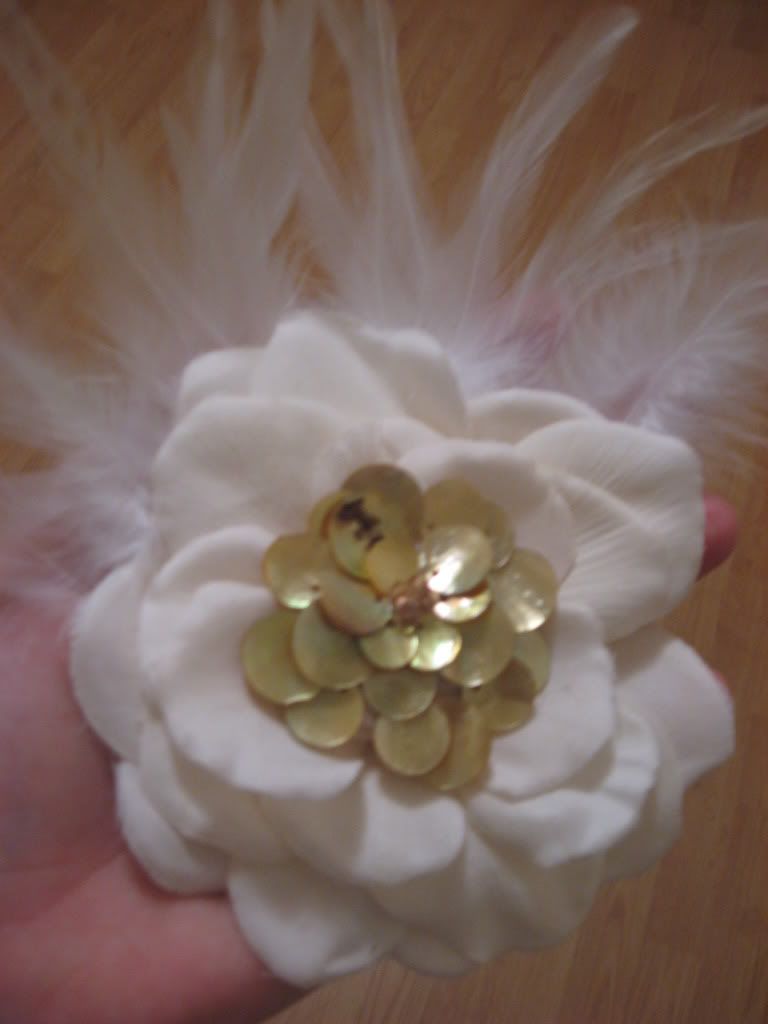 + Made the card box. It's just a cardboard box wrapped in fabric and ribbon, with some 3-D flower stickers thrown on for good measure. I eventually covered up all the unfinished mess on the inside of the box. I left the flaps intact on one end, so we'd have easy access to the cards inside.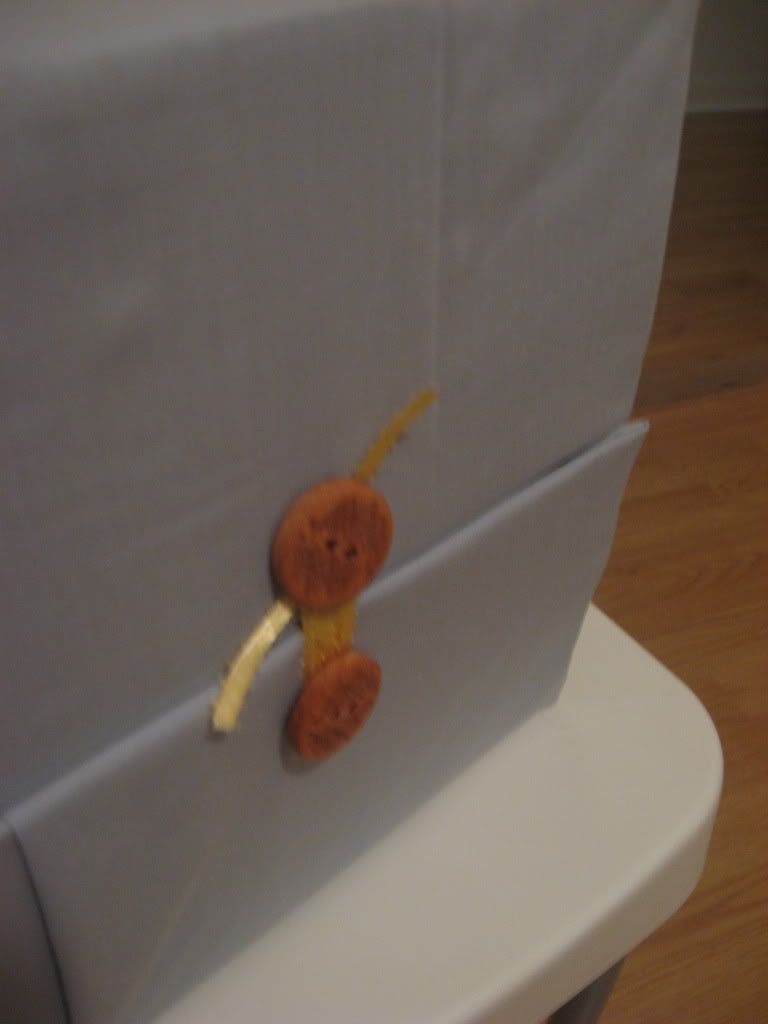 + We're mostly done with the table signs. Our tables are named after Star Trek characters, rather than numbers. FH has been writing up intentionally obtuse and nerdy blurbs about each character. An example:
+ We're having buttons (or badges or pins) made as our favors, and I've gotten all the images done. I just need to cut the circles out. We'll have a variety: childhood photos of each of us, photos of our pets, the date, some phrases, etc. Like these: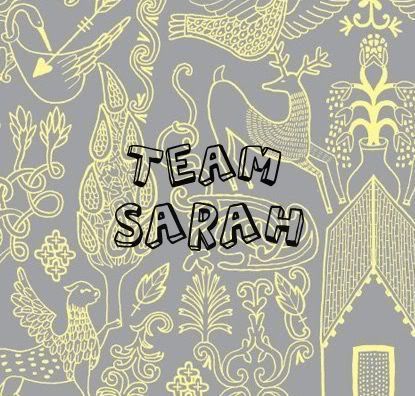 + We got our rings! FH is actually CurrentH because we were common law married last year and have been wearing simple bands since then. But we decided to go ahead and get me an engagement ring, plus new bands for both of us, since we are getting 'regular' married at our wedding and some people don't know about our common law marriage. His band is tungsten carbide, with beveled edges.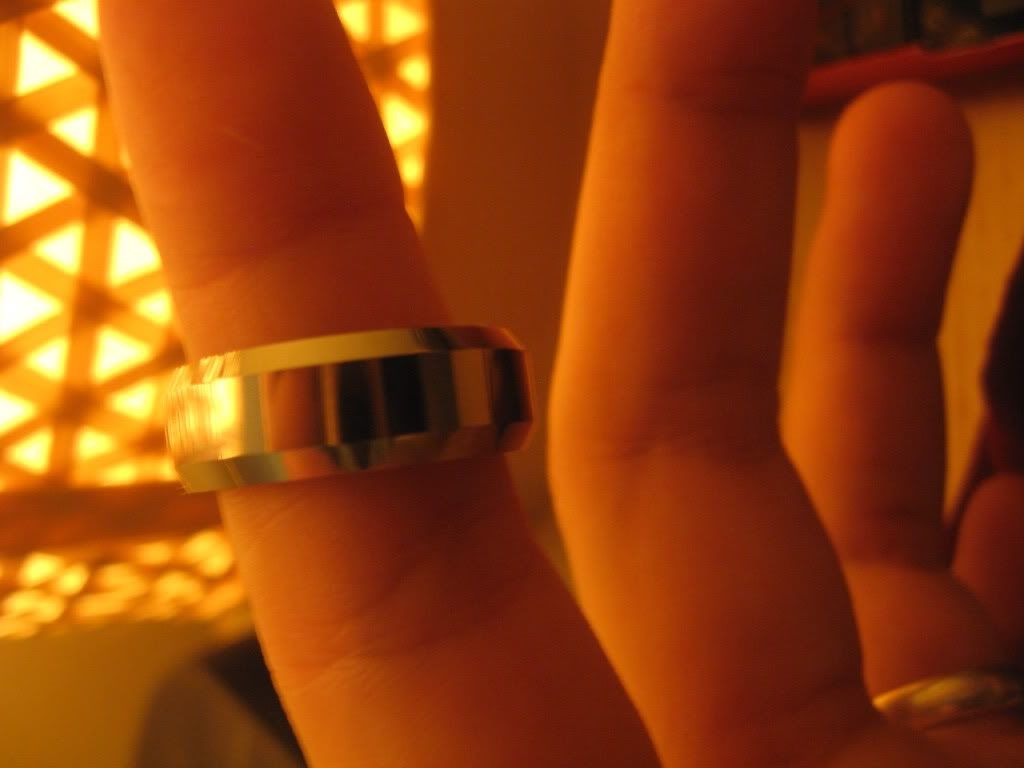 Mine is palladium and the diamonds in it once belonged to my one of my grandmothers. The big diamond is a little chipped, but you can't really tell. We got it from a
local, family-owned jewelers
. If you're Austin, check them out - the customer service and product quality is fantastic. Justin surprised me by saying he wouldn't be able to pick the ring up the day it was ready, but he actually did. He got down on one knee and fake proposed to me. It was very silly sweet.
My new wedding band (on the right) was Justin's grandmother's. She gave it to me at Christmas, which made me cry like a big dumb baby. :B The band fits me perfectly and has Justin's last name engraved in it.
+ The invites are in, and we could not be more excited. We just had them printed up at Kinko's, and they came out great. They're 11x17" mini-poster sized. We got silver mailing tubes for them, but we've also just hand-delivered some wrapped in ribbon.
+ I made these to hang on the entrance to our venue. I bought some plain wooden letters at Hobby Lobby and slathered them in paint, glitter, and stickers, then stuck ribbons on the back.
+ We're finally renting the tables, chairs, and linens this weekend. Rented the golf cart to charter guests to and from the venue (Justin's aunt and uncle's house). Booked people to drive the cart, wrangle our dogs, and generally be gophers for the day (note that your teenage relative's friends make for cheap, eager labor).
+ Made elventy billion updates to our website at
waythatyouwalk.com
. We're using it for RSVPs, rather than paper, and we've already gotten some responses. It's quit handy. Non-tech savvy folks can call us.
+ The ketubah came. I didn't realize how good the quality was going to be; it's like any other nice art print - on heavy weight paper, numbered and everything. Our ketubah vendor,
MP Artworks
, has the most excellent customer service of any internet company I've ever dealt with.
+ We finalized the ceremony with our rabbi. He wrote an amazing, concise sort of interfaith/Reform Jewish/modern/hippy ceremony that we are incredibly pleased with.
+ Made all the decisions and finalized plans for the wedding shower and rehearsal dinner. We're having a co-ed shower (sexy!) with just family and the wedding party the day after Valentine's. My uncle is doing a fish fry. Our rehearsal dinner is going to be at our house, with Venezuelan food by Justin's grandmother. We're then having an after-party for everyone at a local karaoke place.
+
Finally
got a DJ confirmation on our third try. One of Justin's friends is doing the job. We're making iPod playlists, so really he'll just be the MC and queue up the important songs.
+ Our guest book is going to be a simple gray photo album from the Michael's pretty frickin' sweet Martha Stewart line. I'll probably throw on some more flower stickers to fancy it up. I've made this sign for the book with pictures of our cats, as they can't be in the wedding.
+ We picked our wedding cake topper. It's a glittery gold cardboard 'H' from a vintage 'Happy Holidays' banner we saw at Justin's aunt's house during Christmas. Nothing beats free and covered in glitter, IMO. Justin and his aunt also finalized the details of his groom's cake. It will be chocolate-y as hell, with maybe some raspberry filling on a tier or two. Justin's not a fan of chocolate cake, but we wanted to have something 'normal' for the people who may not like lemon rosemary. Since the cake topper is a Star Trek
Borg
ornament, it's going to be dark and silvery and tech-y looking. We found a Klingon Bird of Prey spaceship to go on it somewhere, too. Justin is going to attempt some inner-cake system for lighting all of these ornaments up.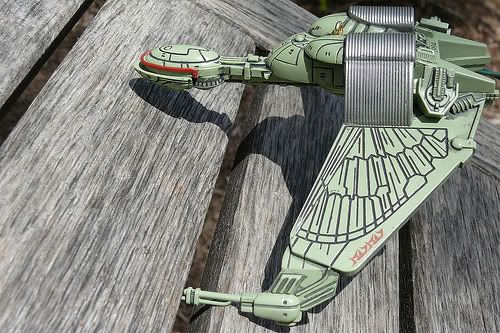 + We had a get together this week to gather everyone's strings of white Christmas lights, and we're going to hang the lights around the yard this weekend. It'll only be dark for about 2 hours during our reception, and we'll have candles and other light sources. But string lights are sweet and magical.
+ I wrote some little notes for the venue neighbors to let them know what's up. We'll probably get some type of gift baskets for the immediate ones. Fortunately, our wedding is on a Saturday afternoon and the reception ends at 9:00, so we (hopefully) won't cause too big of an inconvenience to anybody.
+ We got a registry gift already! It arrived on our doorstep yesterday from my brother and his family and was a pleasant surprise. Now I've got to figure out what we're doing for thank you notes. We had planned to buy a bunch of postcards on our honeymoon and use those, but it seems impolite to wait till after the wedding to send a thank you for something we got now.
Finally, I have stolen several inspiration boards from
Snippet & Ink
, but these 3 best capture the look and feel of our wedding.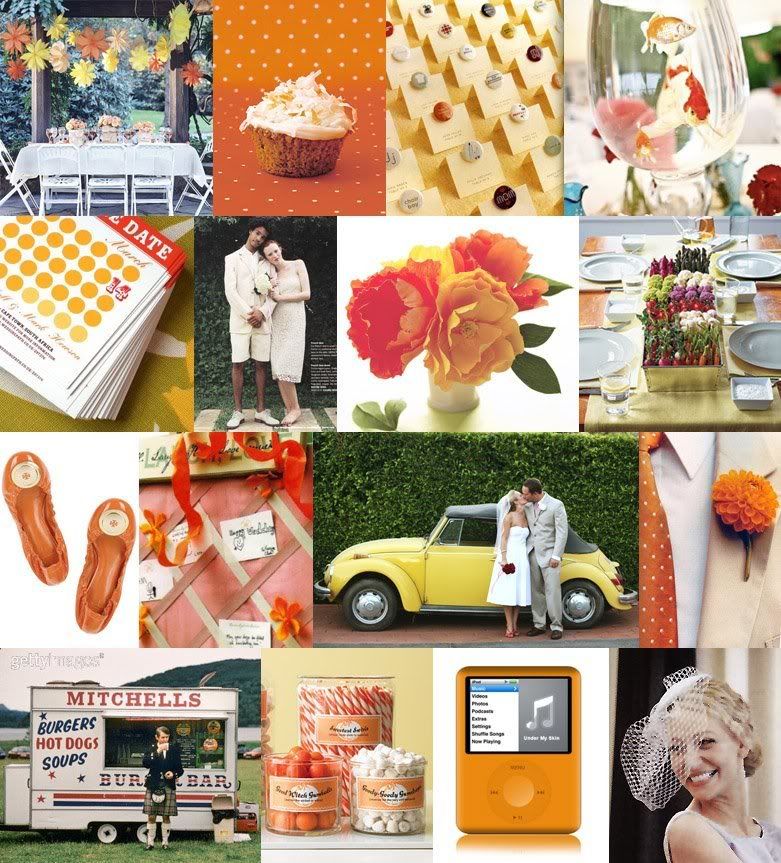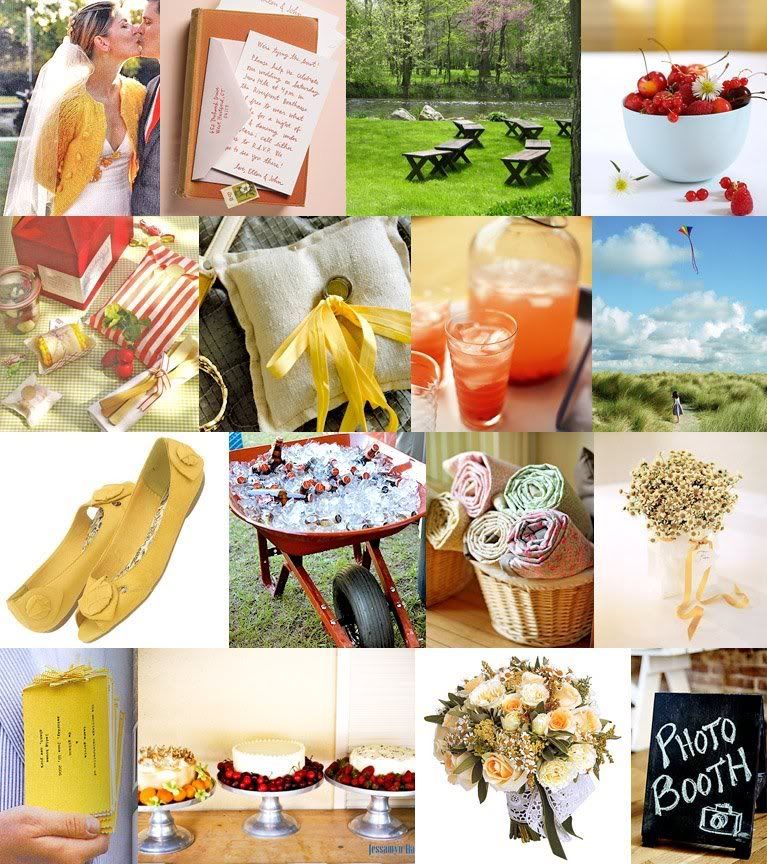 We still need to:
+ Get the rest of Justin's accessories, plus his suit tailored.
+ Get the rest of my accessories, plus get my dress altered.
+ Make all of our grooming appointments. We're hoping to work up a deal for my hair with our caterer's boyfriend, who is a stylist. Justin's uncle is a dentist and will do work in exchange for other people's services and goods. The barter system is alive and well! If you're on a tight budget and have any skilled family members, it's an option worth looking into.
+ Finish up the logistics and minor rentals and purchases for the venue.
+ Get the flowers and centerpieces taken care of. We're doing it all ourselves.
+ Make the chuppah.
+ Finish our gift purchases.
+ Finalize all song selections and set up our playlists.
+ Finish up my remaining DIY projects, like making my birdcage veil.
I'm very detail-oriented, so I'm kind of in my element with this stuff. At the same time, I feel like for every one thing I do, five new things pop up that need to be done!
You can see my first progress post
here
.
And my second mini-post
here
.
There's also a lot of planning info and randomness on our
wedding blog
.
ETA:
Since people have been asking, here is the full list of table characters we're using:
1. Captains' Table (head table): Kirk, Picard, Sisco, Janeway, & Archer LOL
2. The Doctor
3. Tuvok
4. Data
5. Riker
6. Worf
7. Jadzia Dax
8. Garak
8. Quark
9. 7 of 9
10. Wesley Crusher (kid's table - although we may do tribbles, instead)
11. McCoy (back-up table if more people show up than expected)
It was really hard picking just 11+ characters!
So... the wedding is just around the corner. I spent all last week stressing and freaking out over the budget and everything left to do, but this week I'm really excited and eager about everything. I'm sure this cycle will continue ad infinitum until the big day. Which is 70 days from now. :O