ready
! I know the next couple of weeks will go by fast, but I still want to fast forward to March 28th.
Me
The Converse flip-flops I'll be wearing during the reception. We're really promoting Converse-wearing for the wedding, but sneakers aren't really my thing and I wasn't finding the types of flats I wanted. Flip-flops are very me.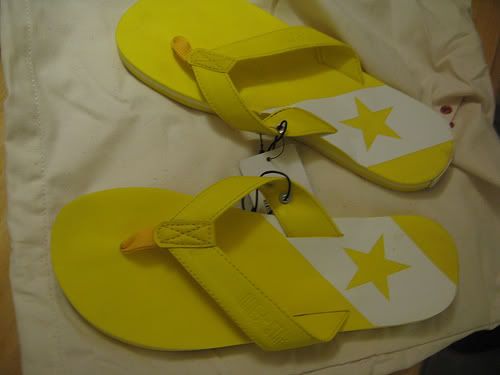 Goofing off in my dress. I'll be dying my crinoline yellow tonight. You can kind of see my gray shoes here.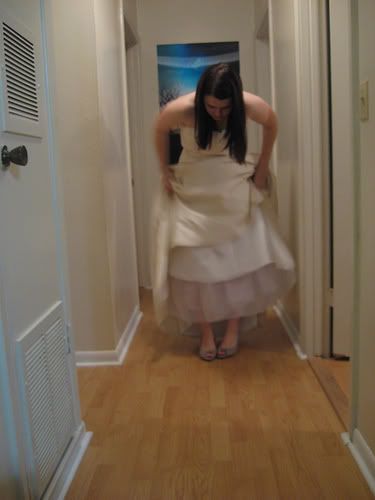 And a lol-tastic picture of me in the dress. I look like a doofus because my dress hadn't been fitted yet, so I had to press my arms back to make it stay up.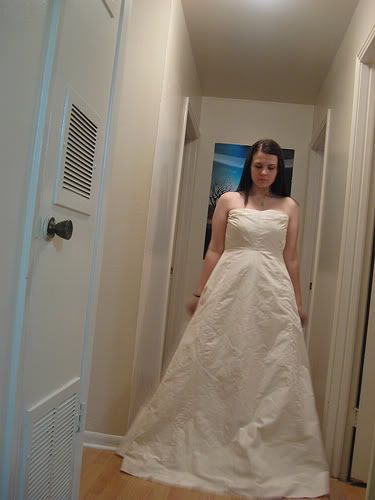 Here's a detail of the top on the J.Crew model. It's a very plain dress except for the bustline pleating and the shiny organza-ness of it all.
Got the garters. Not very interesting because, uh, we really don't care.
Justin
The yarmulkes for Justin and our best man. They are a sort of bluish gray, which works well with the metallic sheen in some of our gray stuff.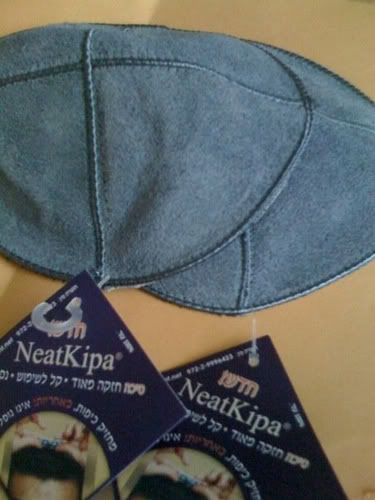 And here's Nerdy McGee himself in his complete outfit. His second-season Riker beard will be gone for the wedding... and will have grown back fully within a week.
Justin's United Federation of Planets cuff links with the "Captain Kirk" shirt he'll be wearing at the rehearsal.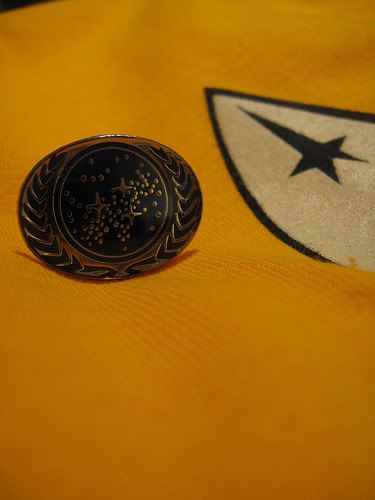 Ceremony
Ordered our kiddush cup for the ceremony. Man, it better get here soon.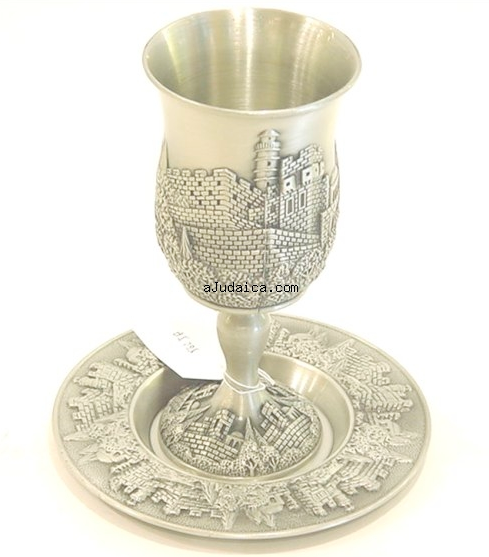 I made our flowergirl's basket from a slouchy basket I got at IKEA. I just added some ribbon and 3-D Martha Stewart stickers, which I have a ton of for some reason.
Our Mazel Tov glass is one half of a pair of Reidel wine glasses - I accidentally broke its mate a while back because I am the queen of breaking drinking glasses. Now Justin gets to break stuff on purpose. I made the pouch for it based on a Martha Stewart tutorial (she is my wedding guru).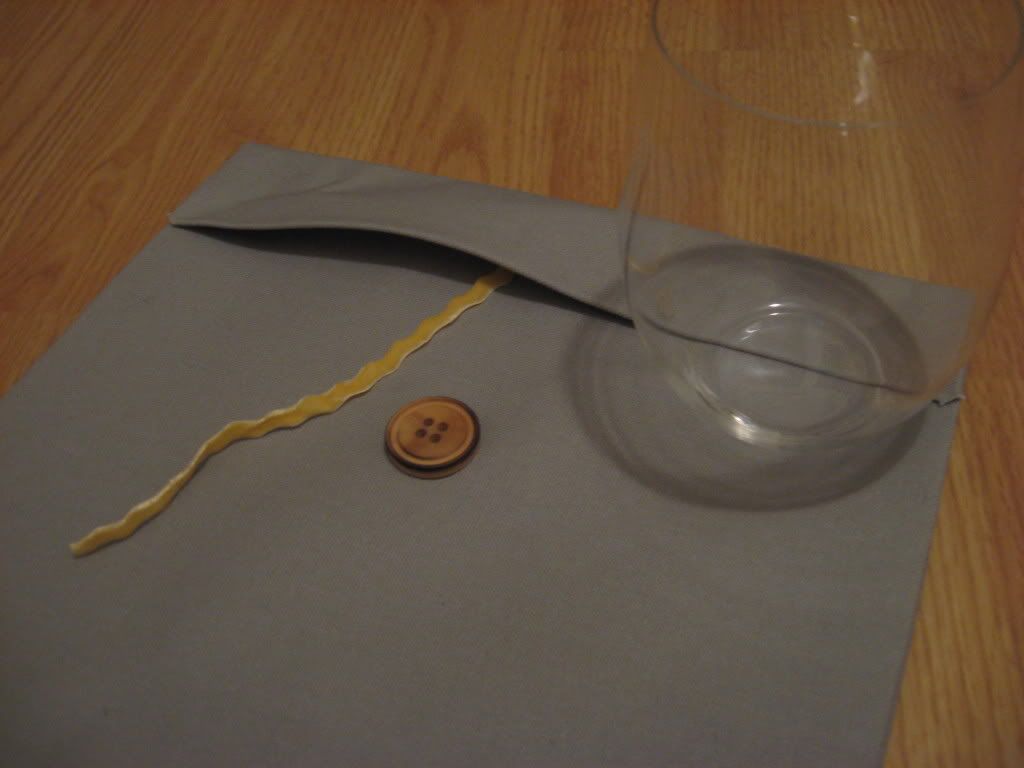 Our dogs are going to make a very brief appearance in our ceremony wearing this leashes from American Apparel (of all places). They are conveniently in metallic versions of our colors. We still need to get the matching collars.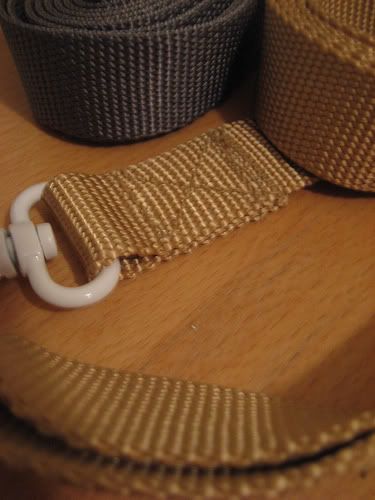 Our best man will be in these custom Chucks that we got him. They're navy and gray with hints of yellow, and, of course, our wedding date on the heel.
We decided to use an afghan that Justins' grandmother made for us in our wedding colors as the chuppah canopy. After the ceremony, the chuppah will be transformed into a canopy for the "teen lounge" area Justin's aunt is rigging up with all of her
retro-cool mid-century modern furniture
.
Reception
Our guestbook is an address file from
R Frantz Designs
on Etsy. I really wanted something where guests could scribble down whatever they wanted (the cards are blank). I also wanted something I wouldn't be tempted to put in a box or on a shelf and never look at again.
Our centerpieces will be a variety potted herbs and succulents with bowls of lemons, plus candles in Mason jars. Some tables will have herbs in tin buckets and lemons on rattan-like bowls. Others will have the plants in white ceramic pots and the lemons in sort of putty-colored bowls. All the containers came from IKEA. If you live near one, they are a
great
resource.
Our tablecloths will be yellow, and in theory, the lemons will not be covered in Sunkist stamps. :P I'm going to replace the plastic ID tags with little wooden stakes labeling the herbs.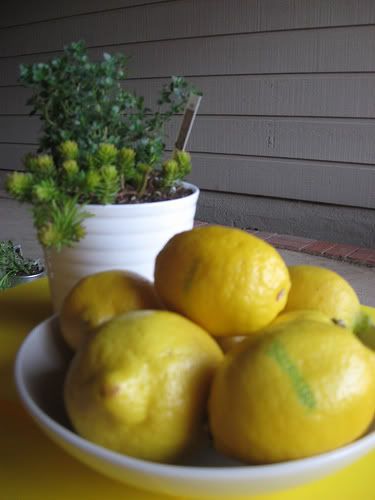 Misc.
+ We had a co-ed wedding shower with our family and wedding party back in February. It went well and was a great opportunity for a lot of people to meet each other. It's where that blurry photo of the yellow-and-gray afghan came from.
+ We're waiting on our custom buttons to come in from
Christine Renee
on Etsy. They'll be our favors. We designed them and punched the images out, and she'll assemble the buttons. It was a lot cheaper than buying our own button machine or using any of the other button-making sites I found online.
+ We got the giant sparklers for our exit. We lit one and timed it; it lasted for 1.5 minutes. Not bad. We're going to get a bunch of yellow lighters and stuff them into this giant matchbox I jazzed up.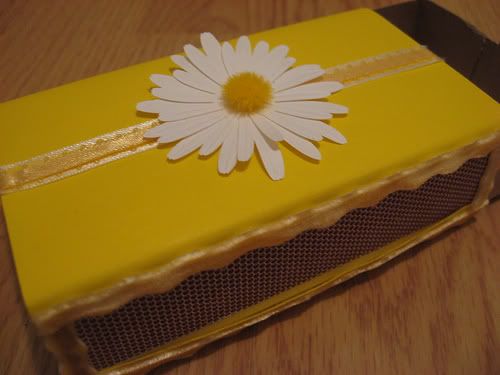 + We did a trial run of
our signature drink
: the Inertial Dampener. It's lemonade with vodka and ginger ale, on the rocks and garnished with crystallized ginger. We'll also have a non-alcoholic version.
+ We did a tasting of our menu. Everything was delicious, but the only phone we had was on a camera, and the photos aren't that appetizing. They don't do the amazing food from
Pink Avocado
justice.
And to make up for all of the terrible photos of us in this post, here is one of our engagement photos featured on the main page of
our website
. This was taken almost a year ago by
Arol J Horkovy Photography
. It feels like it was eons ago.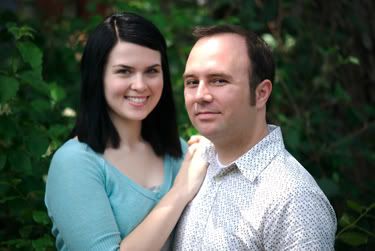 Still left
+ Our respective bachelor and bachelorette parties are this weekend. We are both really excited.
+ We're getting our marriage license tomorrow!
+ We've got a few gifts left to get for people, and I need to wrap the ones we do have.
+ We need to get a handful of things for the reception, like more cocktail napkins and stuff to make the Inertial Dampener. We also need to meet with our wedding coordinator (Justin's aunt) and MC/iPod-minder (a friend) to go over what they need to be in charge of for the big day. Got to finalize the day-of schedule and the seating chart, too.
+ I've got a hair and make-up trial next week. I have no idea what I want to do for my make-up. I want the focus to be on my eyes, but I feel like a smoky eye would look ridiculous at a day-time backyard wedding.
+ Got to round friends up to help print and assemble the programs. Same goes for the table signs, seating chart, and the like. We need to make a bunch of the ubiquitous Martha Stewart (there she is again) pom poms to hang in the trees at our venue.
+ I need to finish downloading the music for our cocktail hour and reception, put the playlists together, and back it all up on assorted iPods and CDs.
+ All of us doing formal dances really need to get it together and figure out how to dance to our songs.
+ Our wedding party all have their outfits set except for our maid of honor. Poor think has gallstones and has been losing a ton of weight from her doctor-ordered diet, so she doesn't want to get anything until the last minute in case she keeps losing weight. We told our wedding party to wear whatever the hell they want, so we'll just hit any ole clothing store for her dress.
+ The week of the wedding we're getting the sound equipment and the stuff to make bouquets, boutonnieres, etc. My maid of honor, my mom, and myself will be doing the latter. I hope to use a lot of in-season stuff like daffodils and tulips, but we'll see what the flower shop has.
Really, we're down to all the nitty gritty details. Stuff that's not hard but that there is a lot of.
195 Day Post
140 Day Post
70 Day Post
Whoa. It is almost here. And lemme tell you, we are