Location: Austin, TX, USA
Wedding Colors: Yellow and gray
Formality: Super casual
Theme (if you have one): Converse, Star Trek, citrus and herb, ninjas, pirates, and a million other little things
Number of guests: 111 RSVPd, counting us; I think 108 ended up attending.
All photos are copyright
AJH Photography
, who did a stellar job and had such quick turnaround. Respect the watermark and don't use without permission. Please and thank you.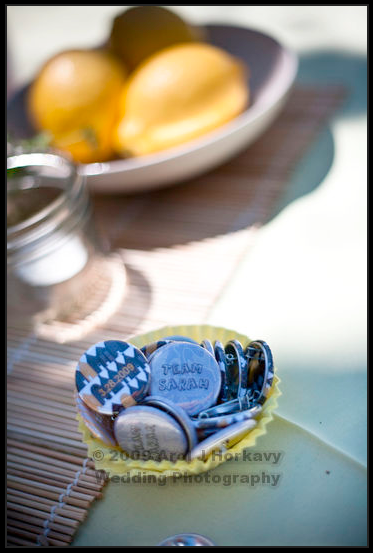 Our favors were buttons (done by the great
Christine Renee
on Etsy) that said "Team Justin," "Team Sarah," or our wedding date. You can sorta see our centerpieces in the background here - bowls of lemons and potted herbs, plus candles in Mason jars. The candles were never used - most people had cleared out by the time the sun set.
Our programs, which were designed using a template from
DIY Bride
. The covers were made from paper that contained flower seeds and could be planted. Procrastinator that I am, I put these off until the week of the wedding, but our family and awesome maid of honor pitched in and got them assembled. If you have a clear vision of your wedding, I recommend getting as much done as early as possible.
Justin gets ready with his best man, Dan.
Details of Justin's outfit: his wind turbine tie from the fantastic
Cyberoptix Tie Lab
, his United Federation of Planets cuff links, and his "Live long and prosper" tie tack.
Getting zipped in with my mom and maid of honor, Palmer. It took me all of maybe 2 minutes to get ready. I had my hair and make-up done that morning by the talented and lovely Blaine and Theresa of
Jose Luis Salon
, and my undergarments and dress were not remotely complicated.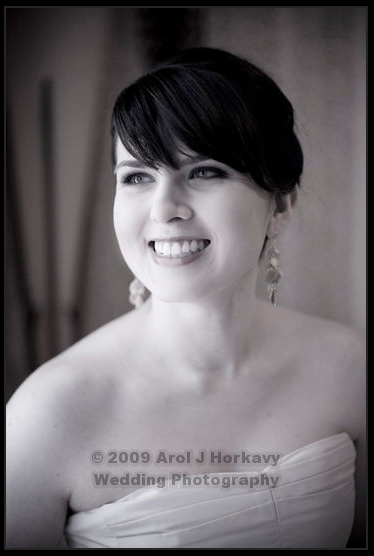 Palmer has her own jewelry business,
Crafts 4 Causes
, and she made my beautiful earrings, plus jewelry for the moms, the flower girl, and herself.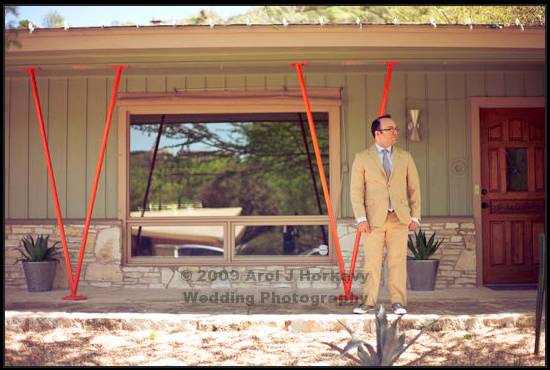 This is the front of the awesome house that Justin's uncle and aunt own and where our wedding took place. Their house is full of crazy cool retro-mod furniture that made an excellent backdrop for the wedding.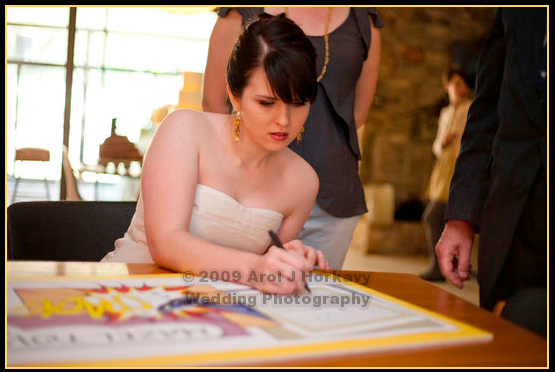 An hour before the ceremony, we signed the ketubah (Jewish marriage contract) separately, with our best man, maid of honor, the rabbi, and a good friend of ours who is sort of our informal spiritual adviser.
Justin and Dan. This should give you a clear idea of the overall tone of our wedding. Dan owns a wine importing company,
Mosaic Wine Group
, and he generously gifted us all of the wine and champagne for the ceremony and reception.
Our wedding bands. Mine belonged to Justin's grandmother; she gave it to me at Christmas.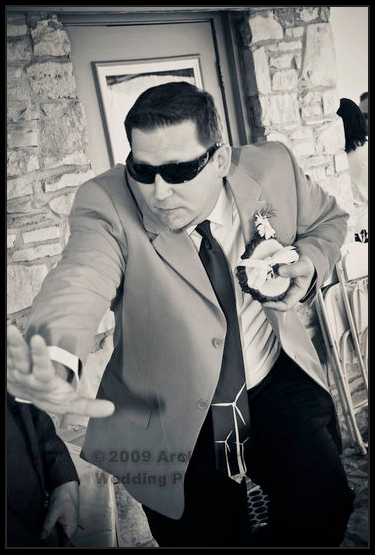 Our ring "pillow" was a slice of oak my dad sanded and attached a ribbon to. Our ring bearer took the actual bands down the aisle, but Dan did a great job of keeping track of them.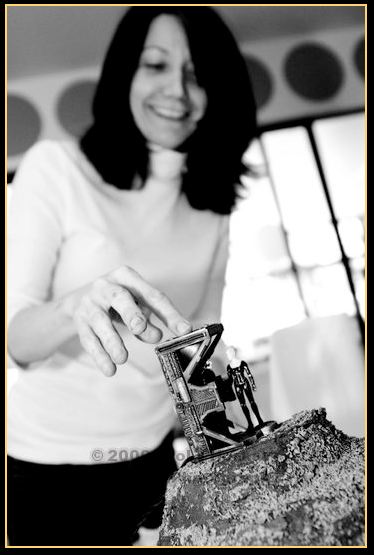 While I was serenely sequestered away with Palmer, Justin schmoozed with guests and a lot of last minute stuff was getting done. Justin's aunt Ana, who owns our wedding venue, made his Borg groom's cake amidst the chaos.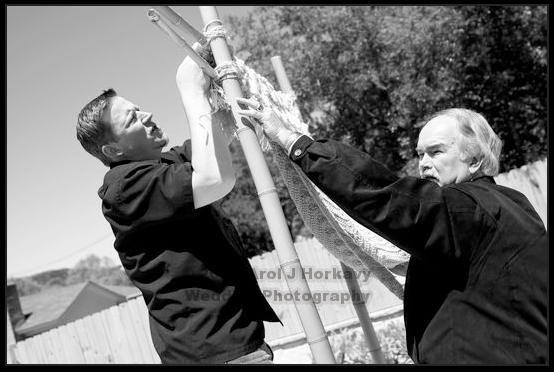 And Dan, my dad, and the guys all chipped in to keep the chuppah stable. It was a gorgeous day - after a week of rain - but it was really windy!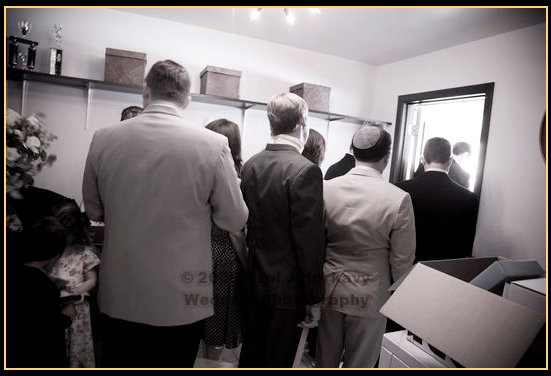 Getting ready to start the ceremony.
My brothers were ushers.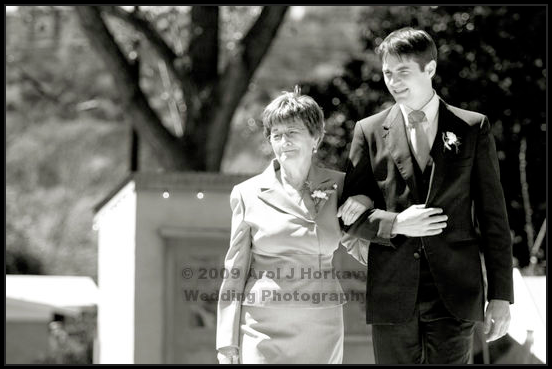 Justin's brother was an usher, escorted their grandmother down the aisle, and stood in for Justin's dad in the ceremony. Ysabel, Justin's grandmom, had her 75th birthday the same day as our wedding. The day before, she made a delicious Venezuelan dinner for our rehearsal.
Rabbi Monty
was really sweet guy and wrote and performed a beautiful ceremony for us. We got a lot of compliments on it later, which was really heartwarming.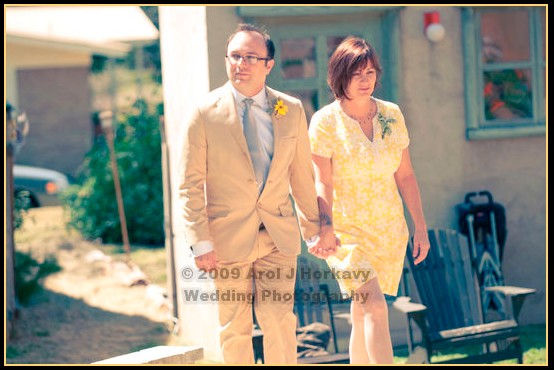 Justin and his mom. He and the rest of the gang walked out to the
Star Trek: Next Generation
theme.
Justin's aunt Ana and uncle Brian walked our 2 dogs up the aisle, then his cousin's super sweet friends took them for a walk for the remainder of the ceremony. We outfitted our dogs with collars in our wedding colors, "Team Justin" and "Team Sarah" buttons, and our original wedding bands from when we were common law married.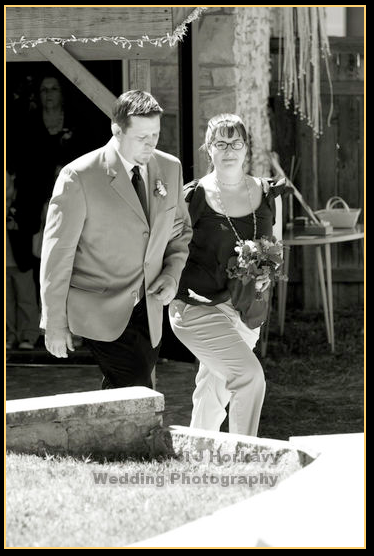 Palmer and Dan made up our wedding party. We didn't have any bridesmaids or groomsmen, but they more than made up for it with their support.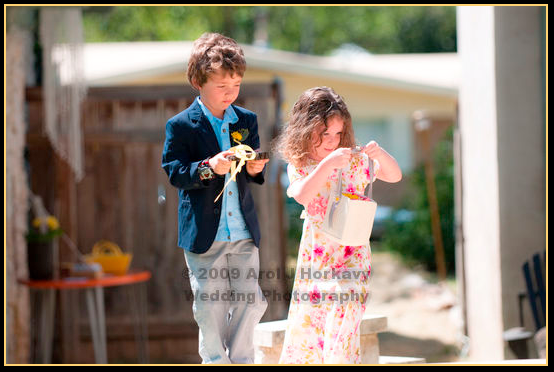 Our adorable ring bearer and flower girl. Brooklyn got too nervous to throw the flowers, but they both did a great job and weren't scared at all. Professionals!
My parents and I walked out to the
Star Trek: Voyager
theme. My mom made my bouquet, which had my great-grandmother's hankerchief, plus charms of my deceased grandfathers and my mom's St. Christopher medal as my something borrowed and blue. My mom also made Palmer's bouquet and the corsages. I did boutonnieres; Justin's had a charm of his deceased grandfather.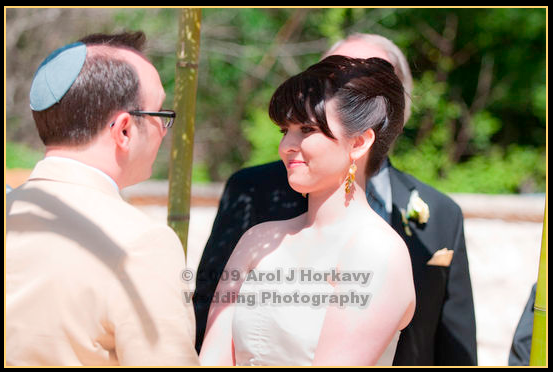 I am trying so hard not laugh here. While circling Justin, he had whispered the
Tootsie Roll Pop countdown
to me.
During our vows, we were both trying really hard not to cry.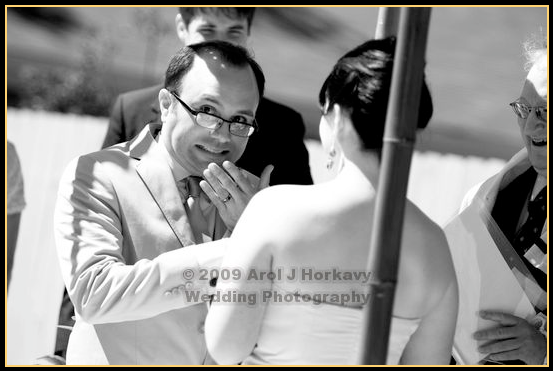 During the kiddush, Justin accidentally started to drink the wine before me and, of course, turned it into a joke.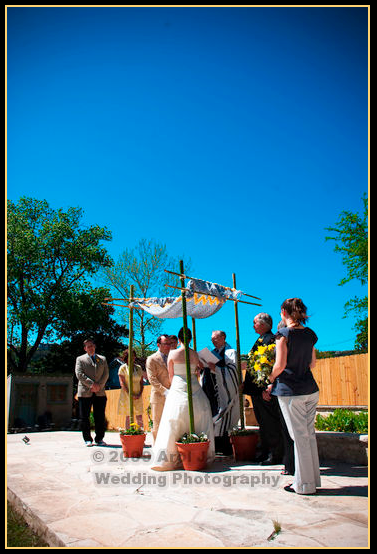 A nice day for an off-white wedding.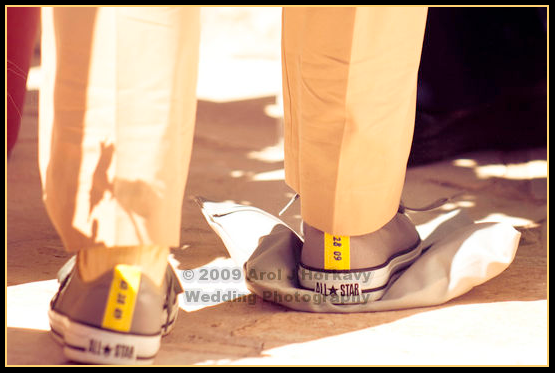 Justin did an excellent job of stomping the mazel tov glass. Later we found a couple of the kids playing with the glass bag, so if you have an at-home wedding, be sure someone rounds all that stuff up and puts it away safely.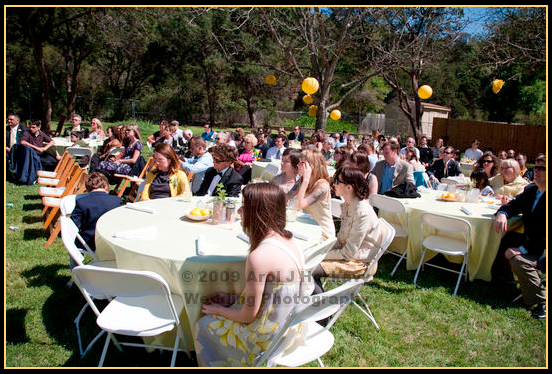 A good crowd shot.
We are married! And nerds!
After the wedding, we had our yichud with our dogs. The yichud is a Jewish tradition - a short private meal where the bride and groom can just be alone together and catch their breath. (And if you are geeks like us, update your Facebook statuses to
married
.) I do not know why this is not a more mainstream tradition. It was one of the rare times we got to sit down and the only time we got to eat a proper meal.
After the yichud and before being announced, we grabbed a shot of tequila with Dan.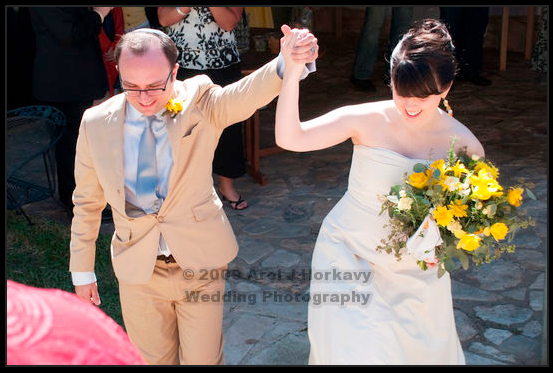 Being announced to the Star Wars rebel alliance music.
The wedding party. My favorite group shots are all of the silly face ones.
Justin's family.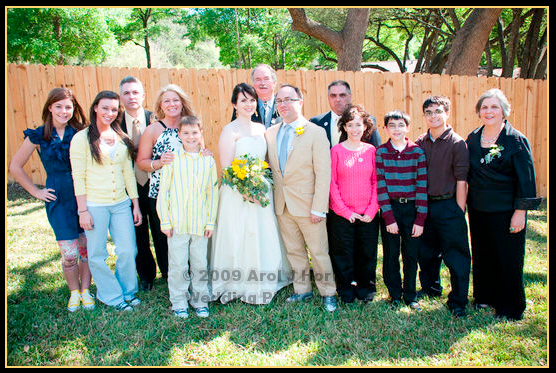 And mine. Why so srs?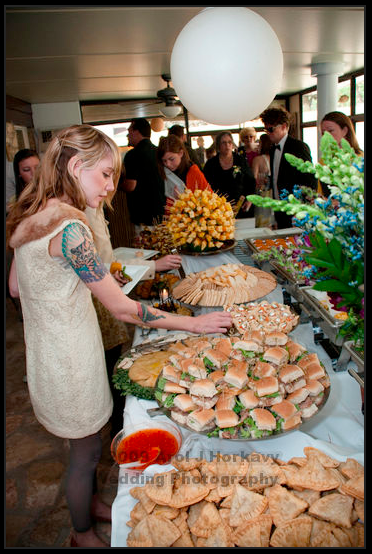 Justin's cousin samples some of the food.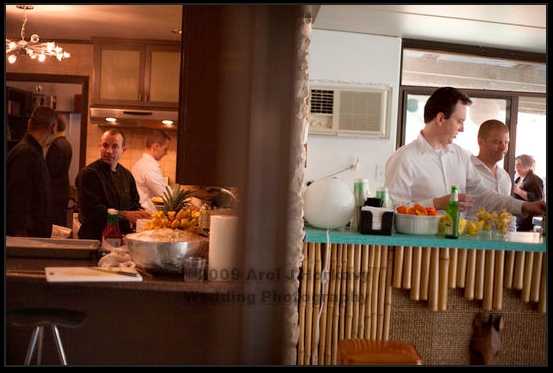 Our caterers one side of the wall and the bartenders on the other. I cannot recommend
Pink Avocado
enough! One of our main goals was to have amazing food that people actually remembered, and PA far exceeded that goal. I think we got more compliments on the food than anything else. They also provided fantastic service. If you are in Austin and need a caterer, use them!
Now, a little on the reception. We had originally created a nice little time line of all the reception events, with plans to shut it all down and exit at 9:00. Well, as
a lot
of brides here have pointed out, things often don't go as planned on the big day and
it is totally okay
. Guests don't have any clue that anything isn't the way it's supposed to be and will have a good time. I'm so glad I listened to all of your advice on this and just relaxed and enjoyed myself, regardless of what happened when.
Having an afternoon wedding really changes a lot of things. People don't eat or drink as much as you plan. They don't want to stay up all night partying and dancing like you expect. And because we had a kid-friendly party, a lot of kids were crashing well before the sun set. So, the majority of our guests were gone before our big exit to the limo. And it was fine. After they left, we had a sort of mini after-party with those who stuck around, getting a chance to nibble on food and relax.
During the reception, that time line we had created was totally ignored. We wanted to make sure most of our guests saw the "main event" type stuff - first dance, toasts, etc. - before they headed out, so we just did things when we felt like it. And we had a ton of fun! So, if you plan having a daytime wedding, be advised that a lot of planning tips you might come across in traditional resources often don't apply. Just go with the flow and time things in a way that feels organic and comfortable for you and your guests.
Blah blah blah, back to the pictures.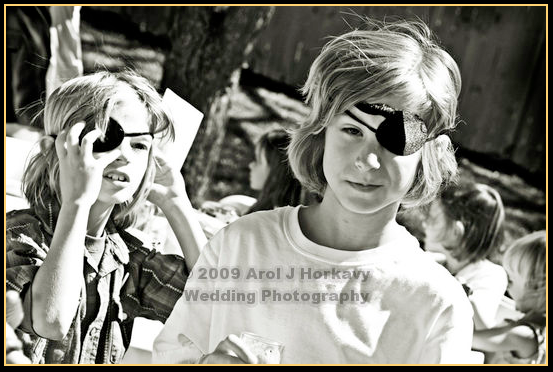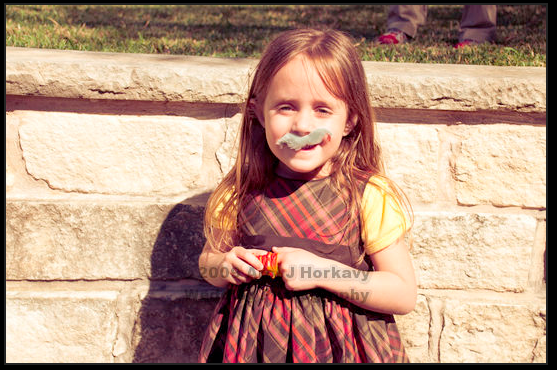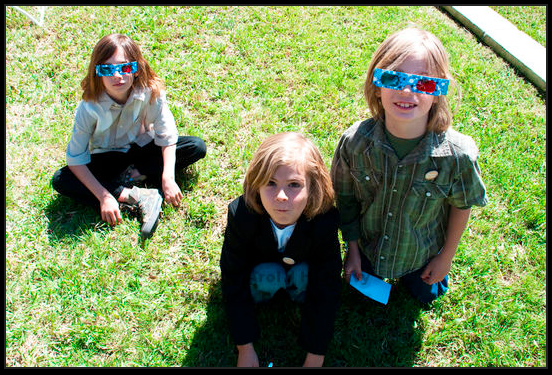 As I mentioned, we had a kid-friendly wedding. I wasn't keen on this at the beginning of our planning, but Justin was really adamant about it and I'm glad we did it.
The kids provided endless entertainment and were loads of fun
. We had a kids table for the 6-10 crowd, and I stocked it with crayons, activity books, eye patches, dino finger puppets, fake mustaches, and 3-D glasses. In the end, though, the kids mostly entertained themselves by running around like maniacs.
Dan made a really funny toast and Palmer made a really sentimental one, and they were both great.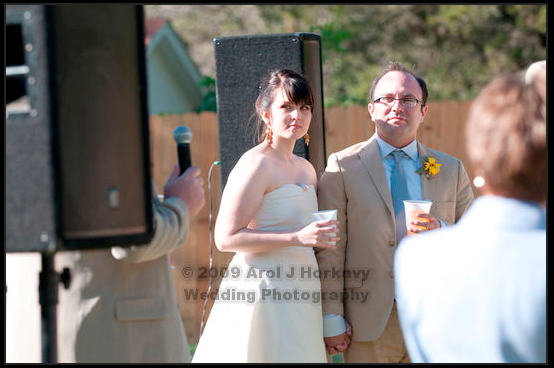 We rambled a bunch of thanks out in our toasts, but forgot to thank each other! We also forgot to use our toasting flutes and instead drank
our signature drink
out of plastic cups.
Our first dance was The Prentenders' "I'll Stand by You." We hadn't practiced at all, but Justin did a good job leading and twirling me around.
My dad and I danced to Al Green's cover of "To Sir, With Love" and I was pleasantly surprised to learn my dad's a good dancer. When Justin cut in, he and my dad danced for a bit, which was weird and hilarious. Then Justin and I danced together like this: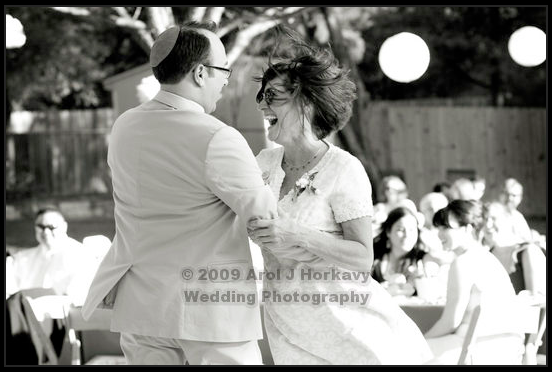 Justin did some crazy two-step hybrid with his mom to the Grateful Dead's cover of "Mama Tried." And that was kind of it with the dancing.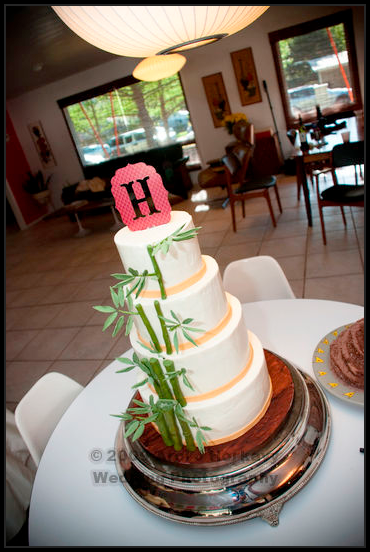 Coco Paloma
made our delicious and beautiful
lemon-rosemary wedding cake, with buttercream frosting and sugarpaste bamboo
.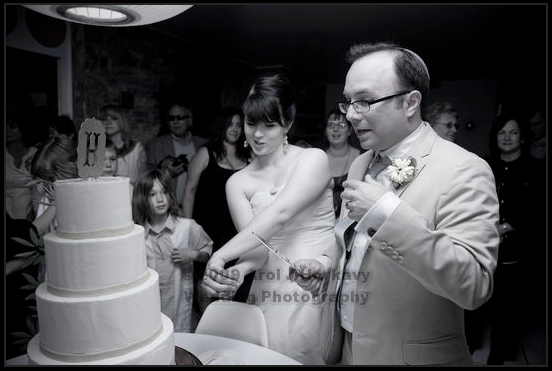 Our MC was using the lightsaber app on his iPhone while we did the cutting, so we got the nice
whrrrr
noise when slicing.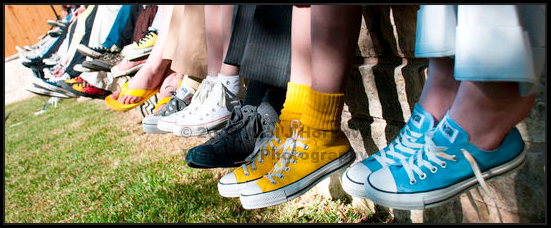 We encouraged people to wear Converse shoes (mine are the flip flops), but we were amazed at how many people actually showed up in them. A lot of people also wore our wedding colors, which was a sweet treat as well.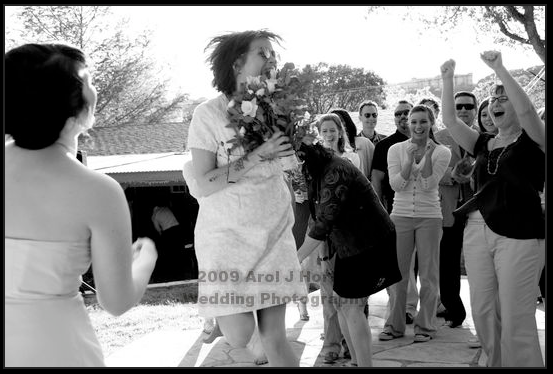 The bouquet toss was to Urge Overkill's cover of "Girl, You'll Be a Woman Soon," but we asked any and everyone to participate, hence the children, grown men, married folk, etc. Justin's mom caught it like a fiend, but she gave it to Palmer.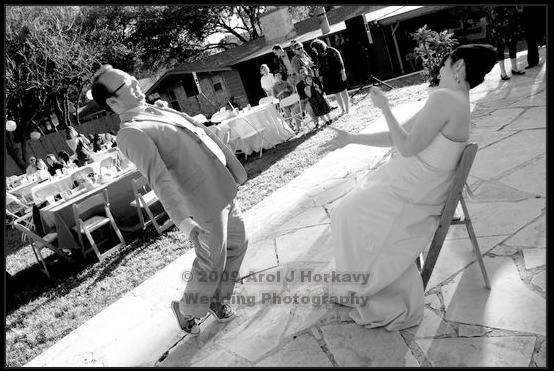 The garter toss was to Kenny Loggins' "Highway to the Danger Zone" but was pretty low-key (that garter was at about knee-level, trust me). In the first shot, I'm roping Justin in. Our friend's pre-teen son got the garter, which would be a little creepy if the whole garter toss thing wasn't so ridiculous. Nikolas is obviously thrilled.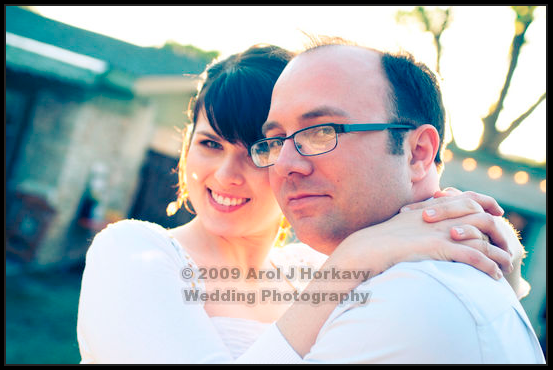 As the evening wound down, Justin ditched his jacket and I changed into my breezy cocktail dress, and we took some silly-sweet couple's shots as the sun set.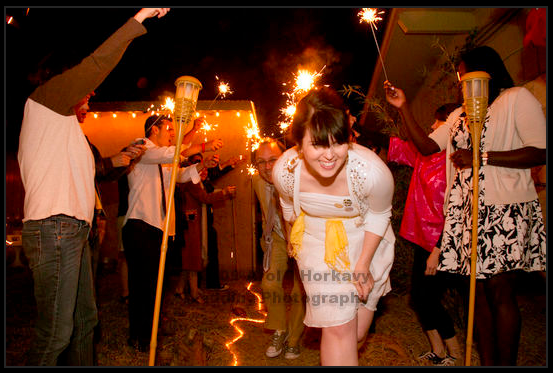 Making our getaway under a canopy of sparklers. We spent the night at
the Driskill Hotel
in downtown Austin, then headed off to Italy for 11 crazy days. (Fortunately, we weren't anywhere near the earthquake. Not to be a downer, but you can donate to the Italian Red Cross
here
.)
All-in-all, we are ridiculously happy with our wedding. We wanted to basically have a big party, and that's what it seemed to be. We got a lot of positive feedback from guests on what a great time they had. Our family, and our close friends put a lot of work into the whole event, and we're really grateful to them.
You can view all of the professional wedding photos at
http://www.pictage.com/637258
(you'll need to register at the sight to see them). There are also some great photos by Justin's dad at
http://picasaweb.google.com/rrayw757/JustinSarahSWedding#
.
Our wedding website will be up through April:
waythatyouwalk.com
. After that, a lot of info will be available at our wedding blog:
waythatyouwalk.blogspot.com
. I plan to update the latter soon with all of our playlists, vendor reviews, program text, and more.
Thanks all you wedding planners, for your awesome ideas, advice, support, resources, and forum for letting off steam. I love this community and will probably continue to lurk here for a while.
Wedding Date: March 28, 2009, 3:00 p.m.